This PoE security camera system is a strong and smart guard. Rugged, waterproof, with keen eyes and ears, and featuring intelligent person/vehicle detection. It can understand what it is seeing, and only alert you to true threats. The 4-camera security kit has your back, front, and sides.
Combining 5MP Super HD high resolution, up to 30 frames per second and H.264 video coding technology, the cameras deliver super clear and smooth live streaming. With the built-in microphone, they also pick up ambient sound for an extra layer of security.
The video shared by Neil B., a Reolink customer.
The video shared by Duane, a Reolink customer.
With 18 infrared LEDs in each cam, this system captures videos clearly in the dark within the range of up to 100ft, protecting your home and business with 24-hour vigilance.
Easy Setup with PoE Technology
This dome security camera system features PoE (Power over Ethernet) tech, with only one cable connecting each IP camera to the NVR for both power supply and video signal transmission. A real plug and play security system!
With the 2TB HDD and up to 12TB of storage capacity, the PoE video surveillance camera system supports all cameras to record continuously at the same time. You will have all-day video without missing a beat.
Access Your Camera, Anywhere and Anytime
Stay connected with your home or business on the go. See live streaming, replay key moments or check on motion alerts with just a few clicks on Reolink App or Client.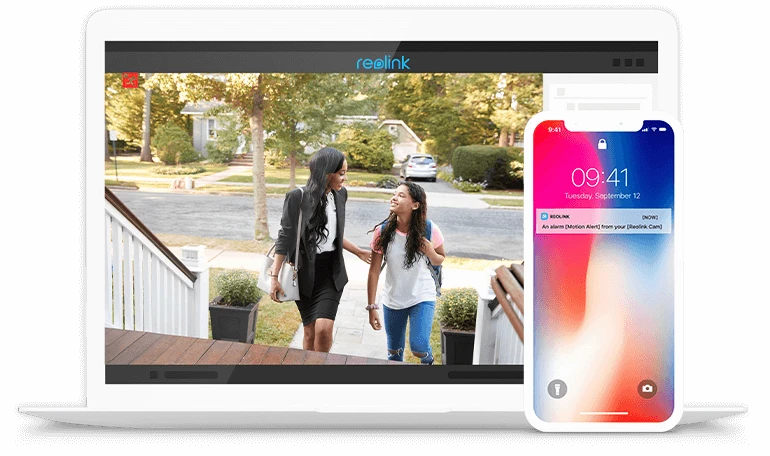 Motion Alerts
Informs you when the cam spots the movement via push notifications, emails, or buzzer alarm in the NVR.
Multi-Cam Live Feed
See the live feed of multiple cameras on the same screen, and have a full control over your property.
Playback
Videos can be stored in the NVR or FTP server. With our intuitive App/Client, you can easily find, replay or download footages you want.
Record Scheduling
You can set each camera respectively to record continuously, or when the motion is detected, or on your time schedule.
Motion Zone
You can customize the motion zone to your like, deciding where objects' movements will be detected and where they will not.
Work with Various Reolink IP Cameras
This security camera system can be expanded up to 8-camera kit with Reolink IP cameras – bullet, dome or PTZ; 12MP, 8MP, 5MP, or 4MP – to cover every corner in your home, store or factory.
* For best compatibility, Reolink cameras are recommended to use with Reolink NVR.
Easy installation, up to 12MP ultra-clear videos
Dual-band WiFi; Super HD wireless security monitoring
IP66 Waterproof. Certified.
The rugged housing and body make these security IP cameras waterproof. They work perfectly both inside and outside your house, in any harsh weather conditions.
RLN8-410
RLC-520A
NVR Power Adapter
HDMI Cable
USB Mouse
1m Network Cable
18m Network Cable
Quick Start Guide
Mounting Template
Surveillance Sticker
Waterproof Lid
Pack of Screws
Please note: The cameras of the kit cannot work without the NVR.
*The data on the pages above are obtained under specific test conditions. Actual use may vary.